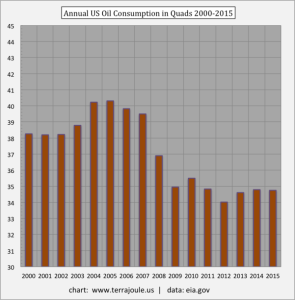 The graph shows US consumption of oil, not in barrels, but in quadrillions of BTUs ("quads").
Topline figures: Consumption in 2005 – a little over 40. And the peak. Consumption in 2015: Just under 35.
Call it decline of 5.5 — or about 13%.
That's part of why the Saudis keep pumping — demand really has dropped off that much. Even as US GDP has grown from $13.1 trillion to today's $16.8 trillion.
Let's say that again — oil use in energy terms has fallen 13% while GDP has grown by 28%. It took roughly 3 quads of energy from oil to make a trillion dollars of GDP in 2005. Today it takes roughly 2 quads.
So it isn't just the US is producing more oil of our own. It's also we've become much more efficient at using it.